rosé+e - <echo>PROJECT
Please credit me if reproduced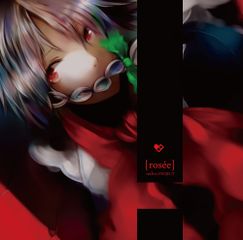 album: [rosée]
arrangement: 平茸
lyrics: aoma
vocals: Pyn
source: 紅楼 (Scarlet Tower) ~ Eastern Dream...
吐息が白くにごる、湖が凍る
短い秋が終わって、冬がやってくるのね
部屋をかき回して、冬物のドレス
衣替えも終わるころ、貴女の部屋を開けた
Breaths turn white, the lake freezes over
The short fall is ending, and winter is coming along
I ransacked my room for my winter dress
When I finished changing, I opened up your room
今もあのころのままそこにいるわ。
今も変わらず時を刻み続けるものが。
It's still the same as it was in those days.
Still marking the time that has passed.
ねえ、今私が貴女の名前を呼べば、
貴女がここにいるような、
そんな気持ちになるけど、
You know, it makes me feel like if I called your name,
You would be right here, but...
それぞれの人生は、それぞれの終焉へ
貴女はも貴女なりの距離を歩いた。
それぞれの時間を、それぞれの思いを、
分かち合うことができた。貴所と伴に。
それだけで幸せよ。
Each life goes toward its own end
You've already walked the distance you had to walk.
Every time has its own feelings that come along with it
I could share them. With you.
And just that makes me happy.
ありがちな味にも、独りのお茶にも、
貴女のいない景色にも慣れてきたところよ。
From the usual flavor, to having tea alone,
I've gotten used to being without you.
真夜中のテラスで。見上げた空から、
冷たい風に乗りながら冬がやってきたの。
I'm on the terrace at midnight. From the sky I looked up at
Winter has come on the cold wind.
指先を伝う温かな雫で、亜麻色の紅茶を、
また、淹れてくれたら、
If you could just make some flaxen tea for me again,
With those warm droplets coming from your fingertips...
本当は今もたまらなく淋しい……
できるでしょう?その時計を巻き戻してよ。
The truth is I'm still unbearably lonely...
You can, can't you? Rewind that clock.
花咲くように月夜に咲く雪は、
降り積もる思いによく似ている気がした。
I felt like the snow blossoming like flowers on that moonlit night
Was just like my feelings piling up.
それぞれの幸せを、私は貴所と、
願うならいつまでも。
I can have what makes me happy, I can be with you,
Always, if I wish.